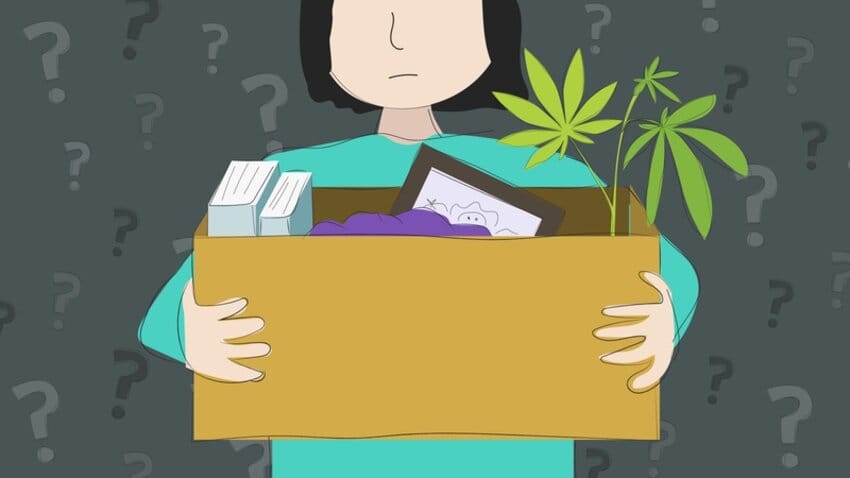 Recreational cannabis use has been legal in Colorado for some time now. As far as the state of Colorado is concerned, cannabis and nicotine can both be legally consumed by adults above the age of 21. In other words, anything from a blunt to the PAX offerings of your favorite vape shop are totally permitted. Colorado law also says an employer can't fire someone for things they do legally in the privacy of their own home, but there's a loophole. Since cannabis is not yet legalized at a federal level, some employers argue that firing someone for off-duty smoking is still legal. State Representative Jovan Melton hopes to change that with a new bill.
Can-Do Attitude
If passed, the bill would make slight alterations to existing law to close the loophole, and prevent employers from sacking smokers. The bill, succinctly titled "Concerning Clarification That The Prohibition on Employer Terminating An Employee for the Employee's Lawful Off-Duty Activities Extends to Activities That Are Lawful Under State Law Even If Those Activities Are Not Lawful Under Federal Law," or House Bill 20-1089 for short, would add minor changes to existing law that could have a big impact. Whereas the law previously banned employers from firing someone over "any lawful activity" they did while not on the job, this bill would change that to refer to "any activity that is lawful under state law." Right now, an employer can't fire you for, say, drinking alcohol at home. This tweak of a handful of words would extend the same protections to cannabis use.
Unless You Work in a Pipe Shop, Leave the Pipes at Home
At this point, it's worth noting that even if the bill is passed into law, it would not protect you from being fired for smoking on the clock or on the job site. So, the best way to play it safe is to stay sober around the boss.
This legal battle has been in the works for the better part of five years. In June of 2015, the Colorado Supreme Court ruled in a 6-0 decision that a man named Brandon Coats was fired legally, after he tried to sue his former employer. Brandon, who still suffered from seizures after a car crash many years ago, had a valid prescription for medical marijuana. After that caused him to fail a drug test, he lost his job at Dish Network. It was this ruling that confirmed the loophole in Colorado's ban on firings for legal activities that Rep Melton seeks to fix. While the ruling was not a happy day for Brandon, hopefully we can all appreciate that the landmark case on the topic has a name that sounds like common household items secretly fighting it out Toy Story-style: Coats v Dish.
Bill Me Later
Though this bill is not yet passed, Rep. Melton has a positive track record getting cannabis-related legislation through the governor's signature and into the lawbooks. In 2017, he jointly sponsored a bipartisan bill with the aim of preventing courts banning cannabis as a bond condition for someone with a valid medical marijuana registry identification card. His efforts there were successful, and his bill is now law. Similarly, he worked with a variety of other lawmakers to write and pass a bill to allow people with a marijuana conviction on their record to get it sealed. If someone had a conviction from before recreational cannabis was legalized, for something that would be legal afterwards, they can now petition a court to seal all records of that conviction. Among other things, this could help a job-seeker hide the past conviction from a potential employer running a background check.
The Measure of a Man
But who is Colorado Rep. Jovan Melton? According to his website, he's a Denver native, born and raised. He's had a knack for politics ever since his Junior year of high school, when he was elected to Class Vice President (the next year he upped himself in his election to Senior Class President). After getting a Political Science Bachelor of Arts degree, he worked on campaigns for other people before he launched one of his own, getting elected to his first term in the Colorado House of Representatives in 2012. He's currently serving out his 4th and final term, as term limits will prevent him from seeking reelection again later this year. He's also been known to hang around Big Brothers Big Sisters Colorado and is currently on their board of directors.
What's Next for House Bill 20-1089?
Before the bill gets its day on the floor, it will first have to be subjected to the Business Affairs & Labor Committee. The committee is charged with handling issues ranging from worker's comp to occupational regulations, and oversees the Department of Labor and Employment, among others. They meet twice weekly on Tuesdays and Wednesdays, and at the time of writing have not yet chosen a day to review this particular bill. If you're hoping to give input one way or the other, consider contacting Luisa Altmann at Luisa.Altmann@state.co.us or by contacting your Colorado State Representative.
Visit 710 Pipes today!
At 710 Pipes, we carry all of the smoke shop products you want and trust, like JUULs and other vaporizers, water pipes, hat pins and so much more! Stop by our Northglenn head shop between 8AM-10PM, seven days a week. We have two Denver pipe shops open daily from 12-8PM (11AM-9PM Thursdays through Saturdays) – on Colfax and on Evans near DU. Denver University students get 10% off with a valid student ID!
We'll see you soon!