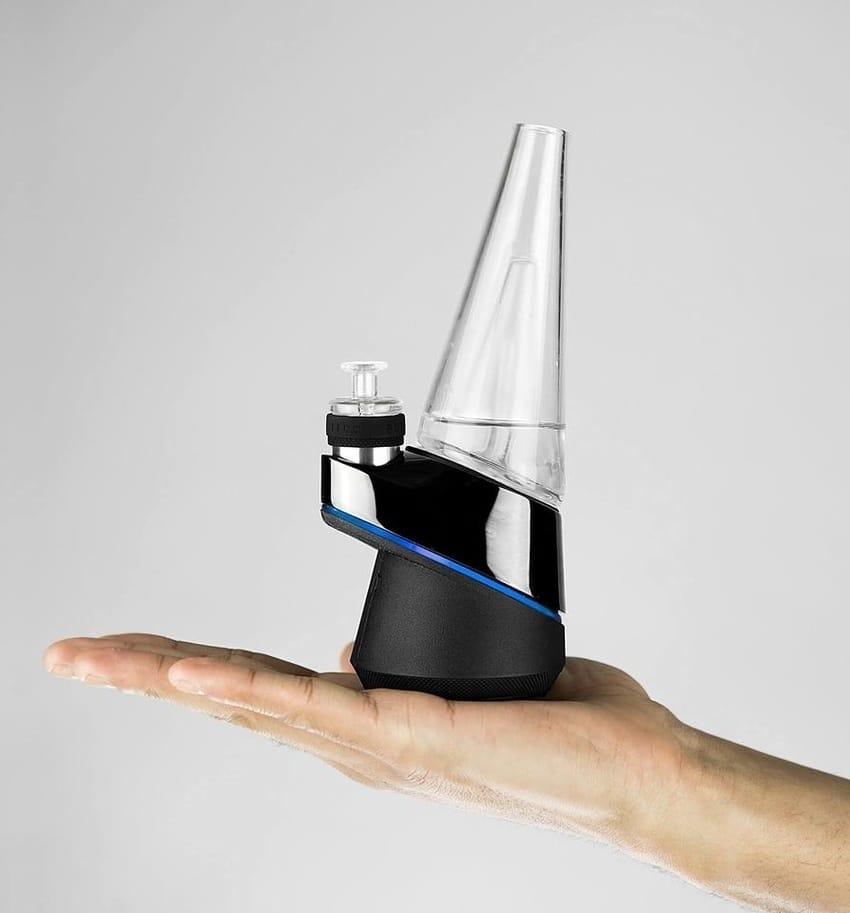 PuffCo products are beloved by vape shop fans across the nation for so many reasons. Their durable, advanced and intuitive products feature the best settings in every essential aspect. 710 Pipes is proud to sell top-quality PuffCo products in our online head shop and our three Denver-area locations.
Learn more about a five popular PuffCo products below – or head to our online smoke shop to purchase your own right away.
PuffCo Plus
PuffCO revolutionized the vaporizer market in 2016 with their release of the PuffCO Plus. It's since won six consecutive Cannabis Cup awards – and the hearts of vape-lovers nationwide. While it may appear to be your run-of-the-mill vape pen, this device is much more. The PuffCO Plus contains no glue, metal or wire, delivering authentic and unadulterated flavor with every draw. It's powered by Sub-Ohm technology for strong, sizable vape clouds.
The PuffCo Plus contains a dart-shaped integrated loading mechanism, preventing splashback and leaks from your vape chamber when you're refilling or using your device. For a lightweight, tiny device, the PuffCO Plus packs a serious punch with full-spectrum effects.
The PuffCo Plus is easy to navigate with just one button. Turn the device on with two clicks of the button, and turn it off with five. Choose between three heat settings with four clicks to personalize the strength of every draw. A built-in light system indicates each setting as you toggle.
This affordable, portable option is an excellent choice for vaporizer fans looking to upgrade the durability, battery life and strength of their existing device without sacrificing size or simplicity.
PuffCO Peak
PuffCO released their groundbreaking e-rig in 2018, and it was an instant hit. This product remains the industry leading e-rig, boasting advantages for every preference and experience level. The PuffCO Peak has four adjustable temperature settings, letting users personalize the strength of every hit. The rig heats up use in just twenty seconds, putting an end to the long waits of traditional devices to meet that optimal heat level.
The PuffCO Peak charges in just two hours – with a battery life sufficient for as many as thirty sessions. You're sure to love the PuffCO Peak's exceptional quality – but the device comes with a full-year warranty nonetheless.
PuffCo Peak Special Editions
If you love the standard variety of the popular PuffCO Peak, don't miss the special edition versions available now through our online head shop. The Neon Lighting and Vision colors will show your unique style and make your smart rig stand out from the rest. Each device comes with a durable silicone base, and uniquely colored inner cone and metallic band. Like the traditional model of the PuffCo Peak, these special edition releases have boast twenty-second heat times, adjustable temperature settings, rapid charging, portability and unparalleled strength. Special Edition PuffCo Peak products are available for a limited time, so seize the day and buy yours while they last!
The Peak Bag
Planning to take your PuffCo PEAK on the go? Transport your device and everything else you need easily with the PEAK Bag. The bag features three distinct carry modes to suit your preference for handsfree transportation. The bag's ultra-versatile straps allow the PEAK Bag to be worn as a fanny pack, hooked to a belt loop, or worn across your body.
The PEAK Bag comes equipped with a hinging front lid and a compartment safe for jars. Additional pockets are perfectly suited to store your cards, cash and other small essentials so you can leave your purse or backpack behind.
The Peak Travel Glass
If you're looking to easily transport your erig, upgrade your Puffco PEAK with the Peak Travel Glass. The patent-pending closure system locks tightly, allowing users to fill their device with water, seal it, and pack their device away for storage or travel without worrying about spills. Simply rotate the adjustable mouthpiece when you're ready to use your device or drain its water. Like the original design, the Peak Travel Glass screws easily onto your existing Puffco Peak device, and fits snugly in Puffco's carrying case and travel bag.
Buy These and More at 710 Pipes' Online Vape Shop!
710 Pipes has all of the smoke shop products you need and more. We carry a huge variety of popular products and accessories, like disposable vaporizers, water pipes, hats, hat pins and so much more! Stop by our Northglenn head shop between 8AM-10PM, seven days a week. We have two Denver pipe shops open daily from 12-8PM (11AM-9PM Thursdays through Saturdays) – on Colfax and on Evans near DU. Denver University students get 10% off with a valid student ID!
Still staying indoors in the name of social distancing? If you're over age 21 in Colorado or other legal U.S. states seeking quality pipe shop products, there's no need to leave your home. Our online smoke shop offers exceptional prices on hundreds of our top products – all deliverable straight to your doorstep. Whether you're shopping online or onsite, 710 Pipes is proud to provide you with the very best pipe shop products on the market today.