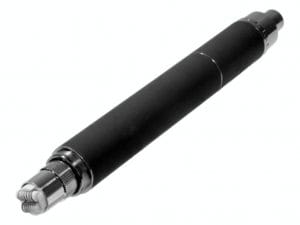 Whether you're exclusively a fan of oils or just dabble in dabbing wax, you owe it to yourself to make the most of every dabbing session. One foolproof way to maximize the impact of every hit is with the use of your number one nectar collector. Not familiar with this popular dabbing tool – or a little hazy on the product's purpose? We've got you covered in this week's guide. Our smoke shop team breaks down the fundamentals of nectar collectors below – including an overview of what they are, the story behind their origin, and the biggest reasons to snag a few nectar collectors ASAP from our online smoke shop or Denver-area locations.
First and 420-Most – What is a Nectar Collector?
Nectar collectors, otherwise known as dab straws, are a relatively recent addition to cannabis culture and the smoke shop market. The traditional dabbing process requires users to transfer concentrates from a storage container to a dab rig with a small, wand-shaped dabbing tool. Nectar collectors cut out the middle-man, so to speak, by letting users consume their top-choice concentrates and oils directly from the place they're stored. In other words, this simple, straw-shaped "vertical vaporizer" eliminates the need for a dabbing wand or dome from the dabbing experience altogether.
What Can Nectar Collectors Be Used to Consume?
Along with the other advantages we'll explore below, nectar collectors are known for their impressive versatility. Users of legal age (and eligibility in their state) can use nectar collectors to smoke rosin, shatter, budder, CBD and THC oil, or whatever else our hippie hearts desire. Too busy reading online smoke shop guides to do your dishes? Longing for the luxury of sipping drinks through a straw without the burning shame of secret plastic-waste? Clean nectar collectors might make a mean crazy straw for your favorite soda flavor…though we're not officially recommending that.
Where and When Did Dab Straws Get Started?
Boulder, Colorado-based innovators Jeff Zobell and Kristian Merwin made history with their revolutionary highdea for the nectar collector in 2014. The duo claims that the dab straw was inspired by their use of pipettes – and their shared desire for a higher-quality alternative serving the same basic function. After playing around with prototype designs for several months, they passed the product idea along to renouned local glassblower Kristian Merwin, who brought their detailed plans into reality with the first working nectar collector model.
In the few short years since the first dab straws got their start just down the road from Denver, they've made a serious splash in the 710 scene. We'd even say that this innovative development is quickly earning the status of a dabbing "staple" for smoke shop lovers far and wide.
What Parts Make Up a Nectar Collector?
Nectar collectors can vary in size, material and style – but a few common components are used in each.
The following parts are used in every dab straw:
Dish – Wax and other forms of concentrates are stored in the dish used alongside every nectar collector. Like many popular smoke shop devices and accessories, these dishes are most frequently made with high-quality silicone or glass.
Tip – Nectar collectors usually have tips made with high-quality, heat-resistant materials like titanium or quartz. To use a nectar collector, dabbers will heat the tip to extremely high temperatures – much like they'd do with a dab nail – until it reaches a level of heat which can instantly vaporize wax.
Straw – The straw within each nectar collector is used as a mouthpiece for dabbers. This component's intended use is surely self-explanatory for anyone who's used a plastic straw in their lifetime. Just open your mouth slightly and wrap those lips around the top of your nectar collector's straw, then place the tip into your concentrate stash and inhale to consume the fresh vapor.
Why Buy (and Use) a Nectar Collector?
The biggest benefit touted by nectar collector fans is their convenience over alternative ways of consuming concentrates. Nectar collectors' simplistic structure helps to minimize waste, letting you enjoy a little more of your favorite concentrates that would typically go down the drain with other dabbing methods. Just gently dip the tip of your nectar collector into your wax, inhale as much vapor as you'd like, and lift the tip away from your wax when you've had enough. Nectar collectors are also reasonably priced – generally more affordable than larger heady glass dab rigs which took more time or quality material to craft.
Does 710 Pipes Carry Nectar Collectors?
We definitely do!
710 Pipes is proud to have unique, high-quality nectar collectors available at all three of our Denver-area locations. We also carry hundreds of additional devices and accessories for smoking and dabbing – including rolling papers, screens for your existing pieces, quartz inserts and so much more! Our Northglenn and Denver head shops (on Colfax and Evans Avenue near D.U.) are open seven days a week. Denver University students get 10% off with a valid student ID!
Still staying indoors in the name of social distancing? If you're over age 21 in Colorado or other legal U.S. states seeking quality pipe shop products, our online smoke shop has several options available for immediate purchase from the safety and comfort of your couch. Our online smoke shop also carries a few fantastic glass dab straw options available to order anyplace and anytime. If you're looking for a more simplistic glass dab straw, a nectar collector with a little extra flair, or an all-inclusive micro nectar collector kit equipped with a quality storage case, we've got the perfect options in store. You'll also find exceptional prices on hundreds more of our popular products – all deliverable straight to your doorstep. Whether you're shopping online or onsite, 710 Pipes is proud to provide you with the very best smoke shop products on the market today.