For many people, the bong is the ultimate vehicle for enjoying their favorite herb. They're easy to use, don't require rolling, provide you with Olympic-level hits and are all the rage at parties. Not to mention that they also make good objects to zone out on after you've polished off a couple of bowls. But with so many different bongs on the market today it got those of us at your favorite online smoke shop to thinking: "Why have just one bong? Why not have different bongs for different occasions?" And so that's what this article is all about: Putting together the ultimate bong collection. Enjoy.
Different Smokes for Different Folks (and Different Occasions)
If we were to start the ultimate bong collection wherein we had a dedicated pipe for every notable occasion, these are the pipes we'd start with:
For Par-tays: TheWisCoKid X Isthmusgrower Collab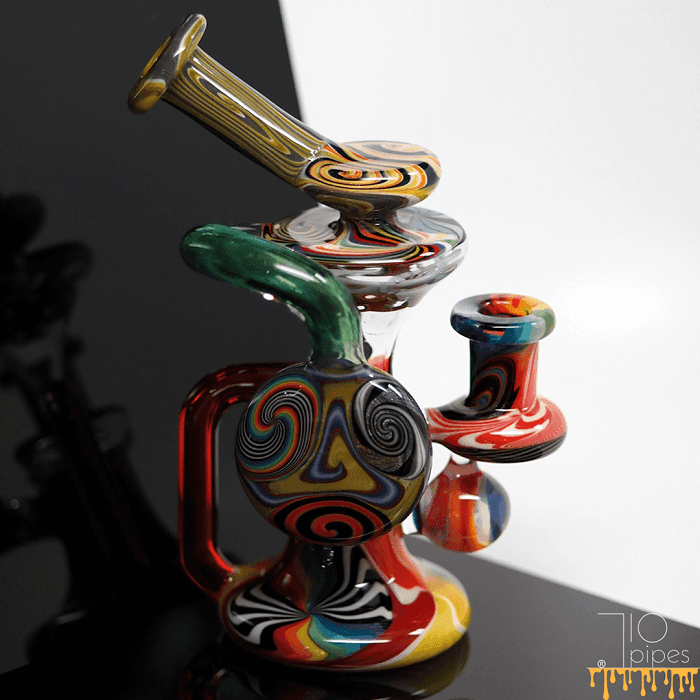 When you're having friends over for some Netflix binging you gotta have the right rig. TheWisCoKid X Isthusgrower Collab is so right it's almost wrong. After all, your buddies will be so jealous that there's a better than even chance this stunning piece of heady glass will grow legs. So our recommendation would be to pick one up but make sure it's on the apartment insurance policy before you unveil it to the public.
For Everyday Use: The Single Perc Water Pipe
You're home alone watching Lost in Space reruns on a Tuesday night. Nobody's around and you blew way too much money over the weekend to go out again before Friday. What to do? Well, if you're like us you whip out the ever-dependable Single Perc Water Pipe and enjoy the clean cool hits you get from that single suspended perc. There's nothing fancy here. Just some durable borosilicate glass, a nice stable base and big fresh hits. Ahhh…
For Gaming: The Feathered Mini Water Pipe
We don't know about you but when we're into our 5th straight hour of Red Dead Online we need something to take the edge off. This is no time for heady glass. Instead, we want something functional and effective. Something like the Feathered Mini Water Pipe. This is the ideal gaming companion; compact so as not to crowd the desk top, easy to handle, durable and stable. We love the easy flair with which this puppy delivers its nice smooth hits, and the fact that it doesn't insist on its own beauty so much that we lose track of what we're doing.
For Festivals: The Peak Travel Glass
Now that we've all been released from house arrest we're looking forward to the resumption of the festival circuit. But the thought of showing up at SXSW or heading to Red Rocks for some vintage hair bands at the M3 festival without a bong, just seems un-American or something. After all, your grandparents brought their bong along to Altamont and your parents brought theirs to Woodstock '94 (although they didn't bring you and you still resent them for it). So bringing yours to your favorite festival is a matter of family honor. And what is "yours"? Why, the Puffco Peak Travel Glass, of course. Complete with its own shock-proof carrying case.
For the Beach: The Glass Mechanic Bi-Color Sake Bottle
For lazy afternoons at the beach, you want a no-nonsense water pipe that's going to do the job without calling a lot of attention to itself or having a lot of nooks and crannies that could get clogged with sand. Enter the Glass Mechanic Bi-Color Sake Bottle. If smoking weed is not exactly permissible where you live, don't worry. The Glass Mechanic has your back. It's compact (just 7" tall), reliable, affordable and will easily mix in with your soda, Gatorade or other beverage bottles.
For Special Occasions: The Keibler Glass Sculptural Dragon
You don't need to own an online head shop to appreciate the special qualities of the Keibler Glass Sculptural Dragon. This is some heady glass s–t that will leave the guests at your graduation or promotion or IPO party pinching themselves to see if they're dreaming. The Sculptural Dragon is one sexy beast and displays a level of craftsmanship that would make medieval gothic architects sit up and take notice, before they took a long dreamy hit. Definitely something that deserves a big honkin' reveal at a major life-event.
Which is Better: Glass, Acrylic or Silicone?
We offer all three types of bongs in our online smoke shop and they each have their upside and their downside so it's hard to say that one is objectively better than the other. But let's take a quick look at the 3 materials anyway.
Glass – Glass doesn't affect the flavor of your smoke. In that sense it's an ideal material for a bong. Glass can also be sculpted into virtually any shape imaginable hence, heady glass bongs. On the downside, even bongs made of borosilicate glass are pretty fragile.
Acrylic – We often recommend that people buying their first bong make it an acrylic one. That's because acrylic bongs are still attractive, but they're a lot tougher than glass. Once the newbie gets used to handling the acrylic bong they can graduate to a more delicate and, expensive, glass bong.
Silicone – We don't offer many silicone bongs in our online head shop simply because they're not that popular. That's because they're not all that aesthetically pleasing. On the other hand, though, they're affordable, tough and very easy to clean.