Blazy Susan's line of in-demand smoke shop products were designed to simplify your smoking experience. Learn more about their most popular options below.
Blazy Susan Rolling Trays
Blazy Susan's innovative rolling trays have evolved over the years, incorporating user feedback and quality revisions to reach today's state-of-the-art edition. Made right here in Denver, Blazy Susan Rolling trays are carefully crafted with local, top-quality wood. Most Blazy Susan trays feature built-in storage areas and slots, sized perfectly to fit your pre-rolled cones, lighters, grinders, and more.
Rolling trays are available in the original spinning variety for maximum functionality and access to everything you need. Rectangular options are also available - made of hemp, wood or stainless steel.
Blazy Pink Cotton Buds
Need to clean your favorite pipe? Blazy Susan's Pink Cotton Buds are the perfect choice. These highly-absorbent, triple-wrapped swabs are made with sturdy bamboo so they're strong enough for anything you need. The pink coloring comes from an all-natural, food safe dye to polish your products without leaving a bad taste in your mouth.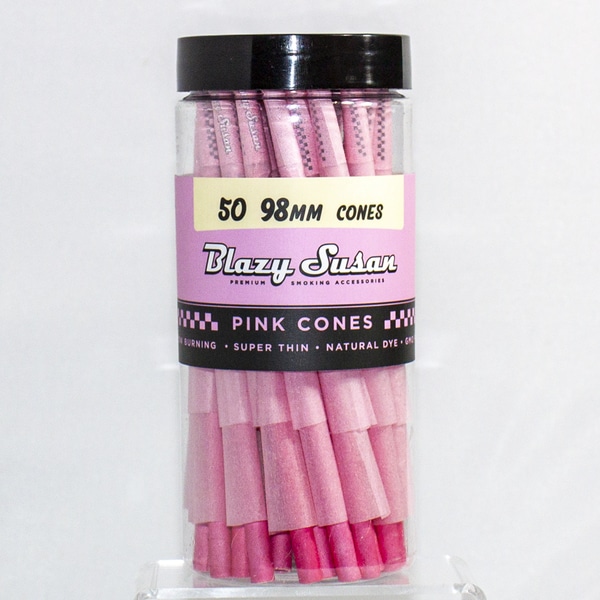 Blazy Pink Papers
Blazy Susan's pink papers and pre-rolled cones stand out with their one-of-a-kind color. Cones and papers are made in France for maximum sophistication. Rolling papers include fifty ultra-thin papers per booklet. If you'd prefer to skip the rolling process, packs of fifty pre-rolled cones are sold in packs of fifty - all carefully packaged to keep their shape.
All Blazy Susan wraps and cones are proudly Vegan and free of GMOs - made with the same impeccable quality as each and every top-rated Blazy Susan product.
Shop for Blazy Susan Products at 710 Pipes!
710 Pipes is proud to offer a wide variety of Blazy Susan products at our Colfax, Evans and Northglenn smoke shop locations. While the doors to our physical locations are temporarily closed to reduce the spread of COVID-19, Blazy Susan's rolling trays, cotton swabs and pre-rolled cones are all available for sale online along with hundreds of other in-demand pipe shop products.
Any questions? Hit us up anytime on Facebook or Instagram - or email 710pipes@gmail.com.