The G-Pen Connect vaporizer takes traditional concentrate consumption to the next level. This compact device is ready for use almost instantly, fully heating within five seconds of activation. The G-Pen Connect is powered by ceramic heating and patented reverse airflow technology. These features give G-Pen Connect users the luxury of powerful draws with smooth, even delivery. Vaporizer connoisseurs have used excess time and space with old school torches and exposed nails for the quality hits they bring. With the G-Pen connect, you can finally enjoy those same satisfying vape hits in seconds from a lightweight and efficient device. Best of all, the G-Pen's extended draw mode and three temperature settings lets users tailor their vape hits with ease to match their ideal temperature and flavor preferences.
What the G-Pen Connect lacks in size, it makes up for in stamina. Users can enjoy several vape sessions back-to-back with the option for pass-through charging as needed. The G-Pen Connect's spring-loaded carb release button clears the chamber with ease with immediate airflow. The G-Pen can be used at home or easily transported in its hemp travel bag - included with every G-Pen Connect kit purchase.
Looking to further elevate your vaping experience? The G-Pen pairs with any female-jointed water piece in your existing collection. Glass-on-glass attachments are also available for purchase. 710 Pipes is proud to offer the revolutionary G-Pen Connect vaporizer at our three head shop locations - located in Northglenn and Denver on Colfax and EvansAvenue. Adult shoppers can also order the G-Pen connect for home delivery through our online vape shop today!
G-Pen Connect Purchase Includes:
One G-Pen Connect Battery
G-Pen Connect Battery
G-Pen Connect Housing
G-Pen Connect Male Glass Adapter (14 MM)
G Pen Connect Male Glass Adapter Connection
One Micro USB-to-USB charging cable
Three replacement O-Rings
Patented:
US 10,021,909
US 10,188,145
US 10,321,721
US 10,327,470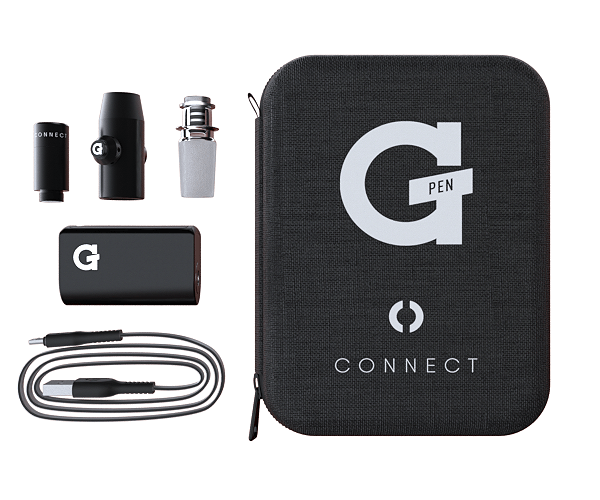 Highlights:
Five second heating time
Patented reverse-airflow technology
Three temperature settings
Powerful 850 mAh built-in battery and three variable voltage settings
Spring-loaded carb release button
Compatible with 10mm, 14mm or 18mm glass attachments (sold separately)
Magnetic Tank Cap to conceal your concentrates
Compatible with any glass water piece with a glass-to-glass connection