Volcano Tabletop Vaporizers
The 2005 release of the Volcano Classic is where Storz and Bickel began - pre-dating the company itself. The Volcano Classic's popularity brought the company to its current rank as an industry-leading brand when vape lovers couldn't get enough. Storz and Bickel's Volcano vaporizer line has since expanded to include their Volcano Classic Gold Edition and their latest release - the Volcano Hybrid.
Volcano tabletop vaporizers' easy-valve balloon filtration system allows users exceptional control over their vaporizing experience. The Volcano is the only vaporizer on the market to meet ISO quality manufacturing standards and UL and NRTL requirements - offering next-level quality hits. You'll love the Volcano's pure, clean hits and smooth delivery.
The Volcano Hybrid - Specs:
LED Temperature Display
300°F range (from 104°F to 446°F)
Warmup time of under two minutes
Automatic 30 minute shutdown timer
Replaceable 100% polythene air balloon filtration system - with 50-100 uses per balloon
Volcano Hybrid: android and IOS app control option
Aluminum alloy heat exchanger
Stainless steel design
Silencer for low-volume use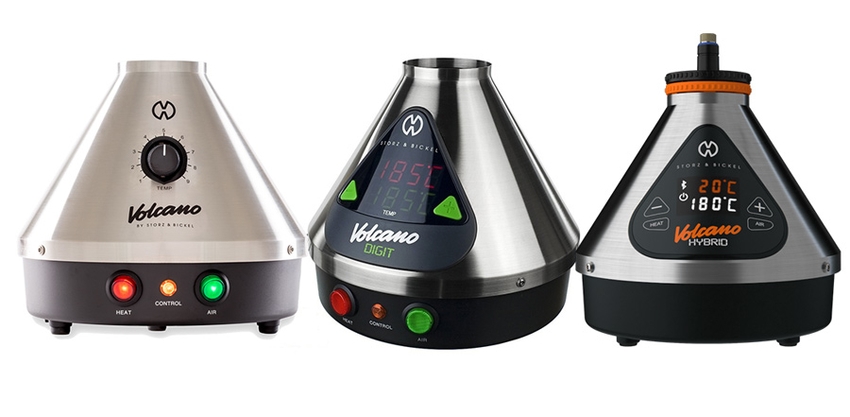 The Plenty
The Plenty is an easy-to-use dry herb portable vaporizer with a double helix heat exchanger - ensuring even heat distribution and thick, flavorful vapor clouds. The Plenty comes with a two-year warranty - and an additional year warranty upon registration.
The Plenty is made of polycarbonate material and comes standard with a stainless steel cooling coil. This solid top-rated portable vaporizer has one of the largest filling chambers yet, and an adjustable temperature control system between 266°F to 395°F. With a built-in analog temperature gauge, you can monitor its temperature with ease.
Includes:
Plenty Vaporizer
Herbal chamber
Three Screens
Plastic mouthpiece
Liquid Pad
Long vapor tube
Short vapor tube
Cleaning brush
Instruction Manual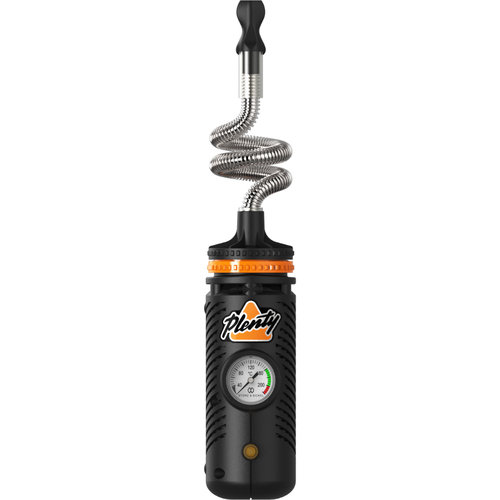 The Crafty+
With a patented combination convection and conduction heating – the Crafty+ reigns supreme in heating herb efficiently and evenly. The powerful heating system allows for perfect air flow - letting users breathe in effortlessly with minimal drag. Better yet, the Crafty+ can reach optimum temperature in just sixty seconds seconds. The device's built-in cooling unit is made from a high-grade, heat-resistant and food-proof plastic known as PEEK - is commonly used in the medical field for surgical implants. Its remote-control app for Android allows you to use your phone to optimize the device settings to your exact preferences whether you're on the go or on the couch.
Includes:
Crafty+ Vaporizer
USB Cable
Base Seal Ring, small
Normal Screen, small
Coarse Screen, small
Drip Pad, small
Dosing Capsule
Cleaning Brush
Instruction Manual & Safety Warnings (concise)
The Mighty
Don't be fooled by its size - this travel-sized portable device is built to last - made with medical grade materials and are backed by numerous safety certifications.
The Mighty has a great battery life of 90-120 minutes - twice the duration of the Crafty+, making it an exceptional choice for use on the go.Like the Crafty+, the Mighty uses a patented combination of convention and conduction style heating for consistent heating - letting users enjoy flavorful full extraction hits with minimal waste.
Includes:
The Mighty Vaporizer
USB Cable
Base Seal Ring, small
Normal Screen, small
Coarse Screen, small
Drip Pad, small
Dosing Capsule
Cleaning Brush
Instruction Manual & Safety Warnings (concise)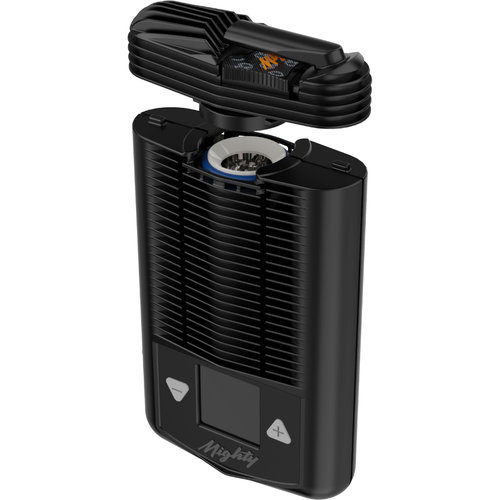 Showing the single result