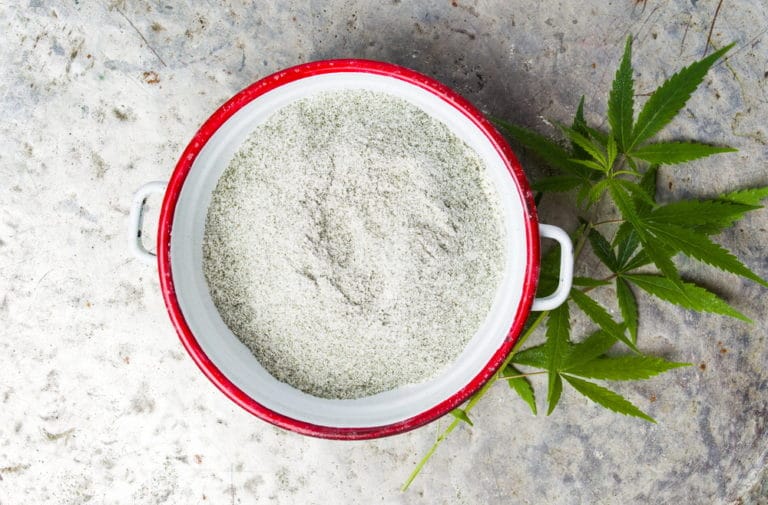 While THC is by far the most commonly known cannabinoid, it's far from the only variety on the rise in our modern culture. Cannabidiol – more popularly known by the abbreviation CBD – has several distinct possibilities for high-quality extracts. It's easy to confuse the most common cannabinoid extracts for one another – but each respective variety has beneficial qualities that separate it from the rest. 710 Pipes is here to help you differentiate between the top varieties, so you're ready to navigate the available options with ease.
FULL-SPECTRUM HEMP EXTRACT
Studies have suggested that full-spectrum hemp extract may mitigate symptoms of inflammation, joint pain, and similar ailments and afflictions. Full spectrum hemp extract is the only variety we'll discuss today that contains Tetrahydrocannabinol –
otherwise known as THC. Those looking for the intoxicating or psychoactive effects of THC without breaking out their go-to water pipe will likely find some satisfaction in the full-spectrum hemp extract. While the level of THC is quite low, a light buzz frequently accompanies the use of full spectrum hemp. This makes full-spectrum hemp extract an excellent choice for pain reducing topicals. It also offers a rich blend of terpenes and other cannabinoids, subsequently maximizing the potential benefits for its users to experience.
CBD ISOLATE
As you may have guessed, "CBD isolate" is a form of CBD, which has been isolated from all other cannabinoids and related components. Isolate is the purest and most potent variety of cannabidiol. To create CBD isolate, plant material and excess waxes are repeatedly sifted out of full-spectrum hemp extract, eliminating all excess components but the cannabidiol itself. This extraction process results in a pure, powdery white substance, which is comprised of 99% pure cannabidiol. Isolate is inherently odorless, colorless and tasteless. This grants CBD isolate immense potential as a seamless addition to virtually any desired CBD product. Foods, topicals and even beauty products can be enhanced by the addition of CBD isolate – without adulterating the original product's taste or texture. Dye and flavoring can be added to CBD isolate as desired. This makes CBD isolate the perfect choice for flavored juices used in JUUL pods and other vaporizers.
Isolate is essentially a blank canvas – providing any desired product with the effects of cannabidiol – nothing less and nothing more.
BROAD SPECTRUM HEMP EXTRACT
Broad Spectrum CBD Extract differs from Full-Spectrum Hemp Extract and other cannabinoid varieties.
Isolates are the purest form of CBD – containing solely cannabidiol – whereas full-spectrum hemp extract contains cannabidiol plus THC, terpenes, and cannabinoids. Broad spectrum hemp extract lands somewhere in the middle in terms of its composition. It boasts the rich benefits of many terpenes, as full-spectrum hemp does. It also contains CBD which is thought to help with inflammation, pain, stress relief and much more. However, much like CBD isolate, broad-spectrum hemp extract is characterized by the full removal of THC via a process of meticulous filtration. This gives broad spectrum hemp a unique niche, beneficial for countless individuals seeking the benefits of cannabinoids without intoxication or the risk of a failed drug test. That's right – pure cannabidiol extract contains no psychoactive or intoxicating elements, so it won't get you high or sabotage your next screening.
Broad Spectrum Hemp Extract can be formed in a few reliable ways. One time-tested approach involves repeatedly filtering carbon dioxide out of full-spectrum hemp extract, with the ultimate goal of the purest possible crude oil once the process is completed. THC can also be systematically eliminated from Broad Spectrum Hemp Extract through the process of high performance liquid chromatography – also known as HPLC. This process thoroughly cleanses THC from the extract, while retaining the structure and quality of the remaining beneficial components that broad-spectrum hemp extracts has to offer.
WHICH EXTRACT IS RIGHT FOR YOU?
After carefully considering the profiles of each of the extracts we've detailed, you may be asking yourself – "which blend is best for me?" The type of extract with the biggest prospective benefits varies greatly by individual.
Rather than ask which product is the best overall, ask yourself what attributes matter most to you in a given product. Do you desire the buzz that Full Spectrum's hint of THC might bolster? Maybe you're still craving the perks of cannabidiol without the professional consequences of trace THC molecules in employer-mandated screenings. Perhaps pain issues that vary in severity leave you longing for the simple, adjustable additive potential CBD isolates uniquely offer. All forms of cannabidiol extracts are rife with exceptional potential – and the variety of extracts ensures that CBD is available to as many of us as possible.
COME TO OUR VAPE SHOP FOR EVERYTHING YOU NEED
710 Pipes carries all of the products you need to consume the cannabinoid extract of your choosing, including JUULs and an extensive selection of vaporizers and vape supplies. We also carry hundreds of gorgeous glass pipes, water pipes, and accessories for every budget! Stop by our Northglenn head shop between 8AM-10PM, seven days a week. We have two Denver pipe shops open daily from 12-8PM (11AM-9PM Thursdays through Saturdays) – on Colfax and on Evans near DU. Denver University students get 10% off with a valid student ID!
There's no need to delay your next smoke shop visit – come to 710 Pipes today. We'll see you soon!