Our local smoke shops carry thousands of glass options – from the simplest chillums to the decked-out dab rigs of your dreams. While many of our hand pipes, water pipes, hookahs and more stick to traditional formations, others push the boundaries into embodiments of all kinds of treasured symbols. From comic book icons to fearsome sea creatures, the sky is truly the limit when it comes to the talented pieces local glassblowers have brought our way. Get a taste of our latest treasures with these five unique glass pieces inspired by pop culture – all available for sale (along with hundreds more quality products) from 710 Pipes' online smoke shop.

HP-215 – Pineapple Pipe

This pipe is for all the pineapple fans! The carb was placed on the front of the pipe instead of the side. Rather than the traditional side-facing carb, this pipe's carb is on the front. This compact, one-of-a-kind hand pipe stands upright at five inches tall with a midsized bowl. 710 Pipes doesn't sell Pineapple Express (or any other intoxicating herbs) – but you can order this pineapple pipe from our online smoke shop with express delivery to your doorstep.
Murray & Brewtz – Jaguar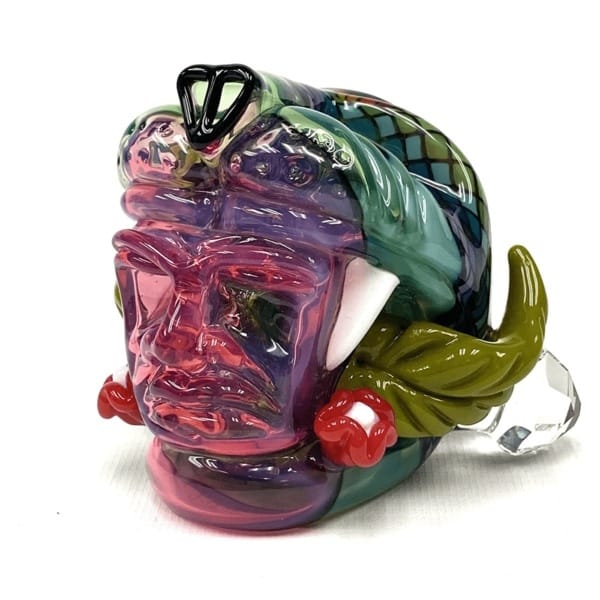 Exceptional glassblowers Kevin Murray and Pinky Brewtz collaborated to create this breathtaking glass piece. Their shared vision and the product's intricate detail is simply something to marvel. At just over three inches tall, with a 10mm joint, this compact piece can fit into your pocket with ease (men's pocket's, at least). Pharoah imagery is taken to another level when you bring out your blacklight and watch two dozen accents glow. The piece comes with a carrying case and complementary Pinky Brewtz playing card-themed patch.
Dani Girl Glass – Deadpool Pipe

This showstopping thematic hand pipe is the perfect glass for the Marvel lover in your life. Handcrafted by the incredibly talented Dani Girl Glass, this little guy stands upright at just above five inches in height. The carb and mouthpiece are on his head and back, while he grips two swords that also function as removable dabbing tools. Visit the product page to learn more, or reach out to a member of our team.
Lee Machine – Yoshi

Denver's own local legend Mike Lee – known professionally as Lee Machine – has bestowed upon us an exceptional tribute to our nostalgia-laden hero, Yoshi. This dab rig features perfectly balanced rainbow coloration and glass accents, creating a whimsical and unique take on Yoshi while maintaining an unmistakable likeness. Yoshi stands upright on his giant feet at just over seven inches, ready to accompany you and your dab-loving friends on your next adventure. The piece features a 14mm forty-five degree fixed downstem, and it comes complete with a matching dabbing tool which fits perfectly into Yoshi's mouth.
Niko Cray and Cowboy – Glass Cobra
This eight-and-a-half inch cobra with a fourteen millimeter joint is the brainchild of Niko Cray and Cowboy's combined talents. The translucent base and impeccably crafted striping evokes visions of the deadly snake itself, while the curved formation and glass accents draw the eye. This visual masterpiece dares you to light the bowl near the base – and watch as your smoke slithers quickly through the body of the snake itself. Embedded pendants serve as accents near the base and captivating eyes beside two fearsome fangs. To top it off, the piece changes color under a blacklight to a vivid variety of neon shades. Order this bad boy from our online smoke shop while you have the chance – don't let it slip away!
Pacini Glass – Full Lucy Octopus Dab Rig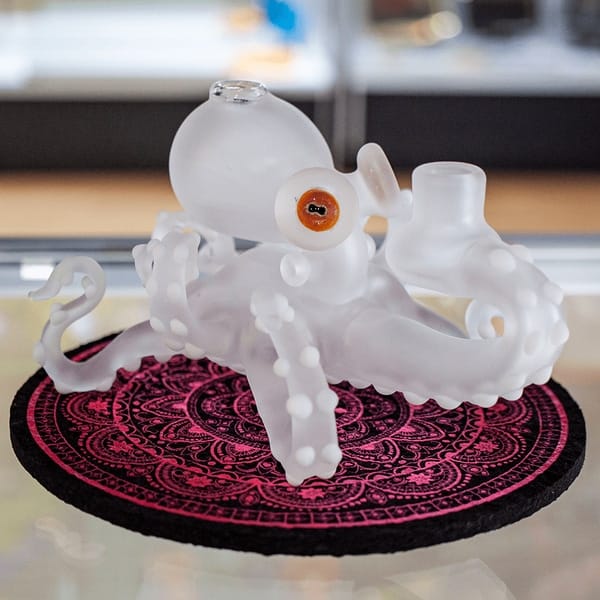 Pacini glass recently unleashed this beast – and we're proud to have caught it. This translucent Full Lucy Octopus dab rig has a fourteen millimeter joint at seven-and-a-half inches tall. With eerie eyes and outstretched tentacles, this piece perfectly blends the elegance and oddity of ocean life itself. Grab your blacklight to shift the piece from white to vibrant purple – with contrasting "suction cup" accents and squinting eyes demanding your attention. Adult users can fill the small bowl on its front-facing leg to start, then draw a hit of legal herb from the creature's head. Check out the product page for more photos, or Pacini Glass on Instagram to see more of their latest and greatest creations.
Our Online Head Shop Has Hundreds More Heady Pieces!
We're incredibly proud to know more than our share of gifted glassblowers in the Denver area and keep hundreds of their best heady glass in store – including exceptionally crafted water pipes, dab rigs and hookahs. Legal adults anywhere in the U.S. can choose from hundreds of top-quality heady glass pieces 24/7 for delivery straight to your door. If you're in the Denver area, visit us in person at our three area shop locations! Stop into our Northglenn shop daily from 11AM-8PM, or find us in the heart of Denver on Colfax and on Evans near DU. Denver University students get 10% off with a valid student ID!
Whether you're shopping online or onsite, 710 Pipes is proud to provide you with the very best pipe shop products on the market today.