Heady glass hand pipes and water pipes are revered for their exceptional beauty and intricate custom features. With stunning aesthetic appeal and extensive variation, there's so much to appreciate about high-end heady glass. The biggest drawback to works of art like these is their relative breakability. After investing hundreds (or even thousands) of dollars on the glass piece of your dreams, it's only natural to want to use it all the time. However, a single drop can shatter your prized possession and render it totally useless. Don't get us wrong – heady glass is worth every penny. However, if you're not known for your steady hand or grace on your feet, you may welcome a break from the worries about breaking your device.
Silicone hand pipes and water pipes have many advantages – chief among these is their limitless durability. With simplistic builds and affordable prices, these pieces boast impressive quality and durability – holding their own among high-end alternatives in terms of quality, function and form. If you need a break from your daily worries, a break-proof hand pipe or water pipe could be exactly what you need.

Our smoke shop team has gathered five popular silicone pipe models to consider – all of which are available for sale today from our online smoke shop! Best of all, all five models come in at under $100, so the bank won't be breaking either.
Eyce Silicone Beaker – $59.95
This silicone water pipe comes fully equipped with features, including a magnetic ring lighter holder, large hidden jar, stainless steel poker, ice catch, and a rolling tray. All three colors of the Eyce Silicone Beaker have a fourteen millimeter glass-on-glass slide and down stem with a fourteen millimeter male bowl. The use of glass water pipes typically comes with well-earned concerns about shattering your high-end heady piece – essentially wasting the chunk of change it cost you. With a silicone beaker like this one, you can enjoy your experience without those bong-breaking anxieties. Pack your favorite legal herb in the Eyce Silicone Beaker's bowl and let your worries disappear.
Ooze Green Trip Silicone Bubbler – $59.95
This lime green silicone water pipe can accommodate the use of flower or concentrates. The piece features a borosilicate glass body with a fourteen millimeter female joint, male quartz banger and male glass bowl. Take a trip with the Ooze Trip Bubbler as it firmly grips your table with a quality suction-cup base. This added feature further removes any lingering doubts about the silicone water pipe's shatter-proof status. While this silicone piece has the aesthetic of an animated ogre – a big change from the classic beauty of most heady glass pieces – this silicone dab rig provides a welcome break from the alternatives' comparative fragility.
Ooze Sax Silicone Pipe – $19.95
Daily troubles have you singing the blues? Rain or shine, jazz up your smoke sessions with the Ooze Sax Silicone Pipe. This compact, affordable hand pipe is made almost entirely of silicone with a removable quartz glass bowl. It's currently available in yellow, green and orange from our online smoke shop. No shatters if this durable piece falls flat on the floor – pick it up and play on! Along with its impressive durability, the Ooze Sax Silicone Pipe is heat resistant and easy to clean.
Eyce Standard Silicone Pipe – $24.95
Eyce silicone pipes feature an inlaid borosilicate glass bowl plus a hidden jar and poker. The mindful structure of the standard model of Eyce hand pipes – and the inherently durable nature of its silicone build – make these pieces immune to breaks from drops that would easily shatter glass alternatives. If you're the butterfingers of your standard smoking circle, there's no better pick than this Eyce hand pipe or other popular silicone models. The options displayed above are three of nine popular color options. At just $24.95 apiece, this affordable high-quality hand pipe is sure to please and built to last.
The Eyce Hammer – $39.95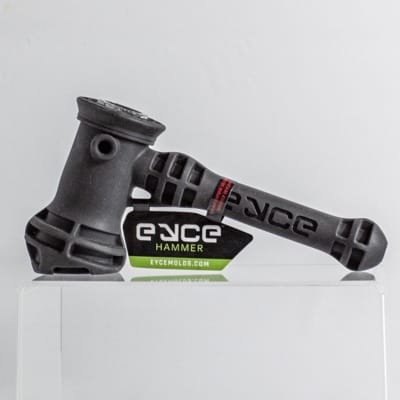 If you're in the market for a quality, cost-effective way to consume cannabis or other forms of legal herb, the Eyce Hammer pipe is an exceptional choice. This compact pipe is built with Platinum-cured Silicone plastic and steam – adding to its visual appeal while maintaining the sought-after durability silicone products bring. Drop the Hammer? Don't stress – its break-resistant design allows for maximal resilience. As a result, this piece is perfect for transporting down the block or on your boldest expeditions. Like the standard model, the Eyce Hammer features a hidden jar, poker and inlaid borosilicate glass bowl. It's currently available online and at our Denver-area head shops in up to ten colors to perfectly suit your style.
Buy Silicone Pipes and More at our Online Smoke Shop!
710 Pipes is proud to offer these silicone hand pipe options and thousands more quality smoke shop products. We carry a huge variety of popular products and accessories, like disposable vaporizers, rolling papers, water pipes, hats, hat pins and so much more! Stop by our Northglenn head shop between 8AM-10PM, seven days a week. We have two Denver pipe shops open daily from 12-8PM (11AM-9PM Thursdays through Saturdays) – on Colfax and on Evans near DU. Denver University students get 10% off with a valid student ID!
Still staying indoors in the name of social distancing? If you're over age 21 in Colorado or other legal U.S. states seeking quality pipe shop products, there's no need to leave your home. Our online smoke shop offers exceptional prices on smart rigs, water pipes and hundreds more top products – all deliverable straight to your doorstep. Whether you're shopping online or onsite, 710 Pipes is proud to provide you with the very best pipe shop products on the market today.